We all know about athleisure: workout clothes worn outside exercising. But it might be time for the trend to move over for a more powerful alternative during this time of social distancing—workleisure. In short, workleisure is a work from home outfit that's as business-appropriate as it is comfortable.
While you adjust to remote work (or embrace it, if you've been doing it all along), consider these work from home outfit items that are cozier than your work clothes, but a lot more polished than your sweatpants. Plus, they'll eventually be perfect for the plane, especially if you want to be comfortable and still look stylish enough to get a free upgrade.
All of the products featured in this story were hand-selected by our travel editors. Some of the links featured in this story are affiliate links, and SmarterTravel may collect a commission (at no cost to you) if you shop through them.
Comfortable Tops
If all you need is a business-casual top half to get you through video conferences, consider more comfortable shirt options than your standard collared button-down. Everlane's lightweight flannel tops and affordable silk blouses are versatile enough to go with any outfit beyond working from home. And they utilize travel-friendly fabrics, so you'll never want to take them off. Try the Air Poet Tee to top off your favorite leggings as a stylish and cozy work from home outfit. Everlane's work shirts for men include collar-less options and classic button-downs made from higher-performance fabrics.
Airy Jumpsuits
Wide-leg pants and flowing tops don't always look tailored, but combining both into a stylish jumpsuit somehow works. The Cruise Cupro Jumpsuit by SweatyBetty is a perfect example that's comfy enough for the couch and sleek enough for conference calls.
Active Trousers
Leggings that look like pants are key to both work from home outfits and plane outfits. Bridge the gap between business-casual and athleisure with workout brands' take on a trouser, like Lululemon's Cotton-Blend Twill Trouser. Betabrand's Dress Yoga Pants are also a cult favorite for business travelers—many of whom are now likely stuck at home, too.
A Stretch Blazer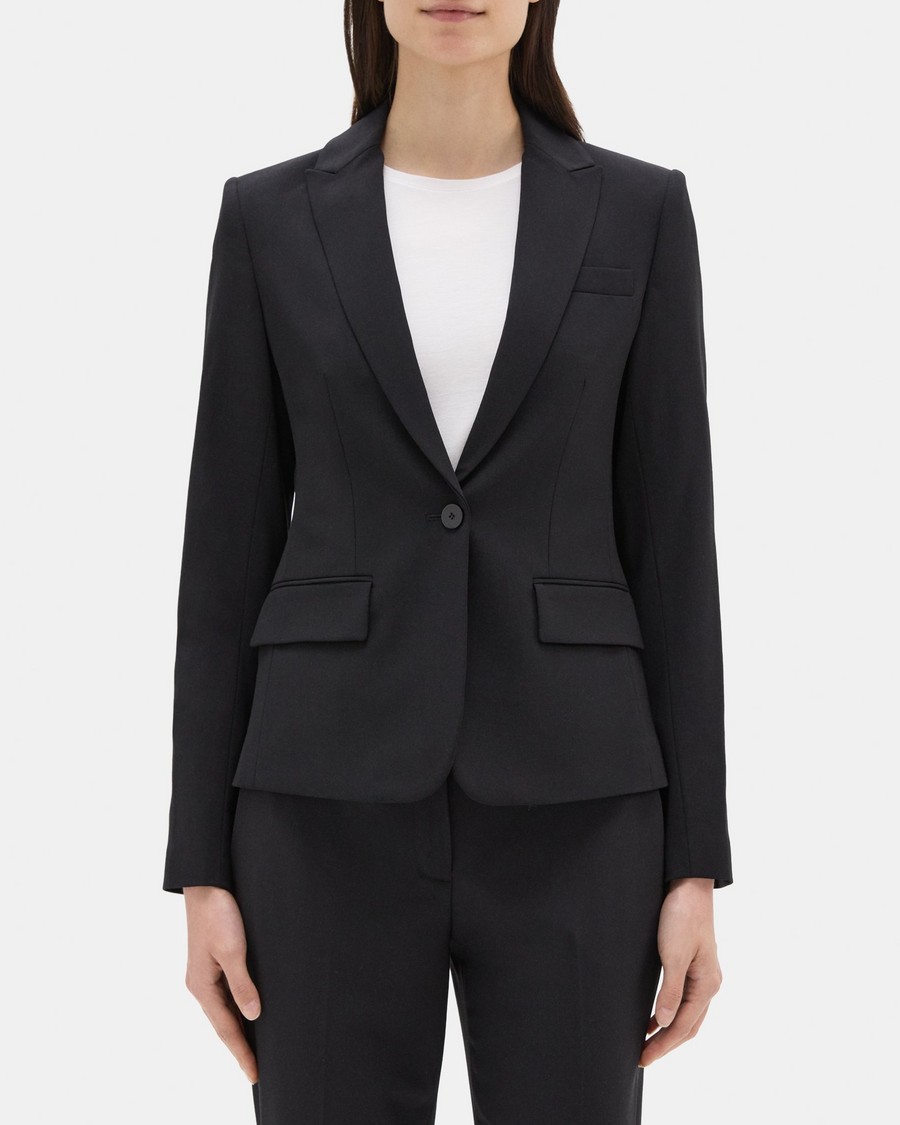 To look extra presentation-ready, a modified, stretchy blazer is the perfect wardrobe secret weapon. There are surprisingly numerous options out there, with Theory's Slim-Fit Blazer being a cozy favorite that comes in black, gray, and navy.
Active Skirts
You don't need to play tennis to appreciate a good high-performance skirt with shorts underneath. Options from Athleta can camouflage as a work skirt, like the Soho Skort and Run With It Skort. Sure, your coworkers probably won't see it—but you'll feel more work-ready and definitely get some compliments from anyone you're isolating with at home.
Merino Wool Everything
When in doubt, look for items made from merino wool—a natural fabric that's much cooler and softer than regular wool, with added moisture-wicking and antimicrobial properties. Woolly Clothing Co. is a travel favorite for airy merino wool options for both men (including work-appropriate shirts and pants) and women. For even more men's options Wool & Prince focuses on merino wool button-downs and polos that are wrinkle-resistant.
Shirt Dresses
A women's merino wool option that affords you the luxury of working sans pants, Wool & Prince's partner line, wool&, makes super stylish shirt dresses that you'll never want to take off. Cozy merino wool dress options from wool & include swing, midi, and wrap dresses.
Pullovers
Part sweatshirt, part work from home staple (mostly for those with more casual dress code standards) a comfy pullover is the closest thing to a hoodie you can wear while still being business-casual. Keep it cozy with a mock-neck version like L.L. Bean's Marled Pullover, or elevate it with a sweatshirt dress like the Cozy Karma Asym Sweatshirt Dress from Athleta.
Loafers
Slippers that won't have you feeling like a slob, a new pair of loafers to wear around the house can make all the difference. Go merino wool with Allbirds' Loungers for both men and women.
SmarterTravel's Shannon McMahon writes about all things travel. Follow her on Instagram @shanmcmahon.
Some review products are sent to us free of charge and with no incentive to offer a favorable review. We offer our unbiased opinions, positive and negative, and will never accept compensation to review a product.
We hand-pick everything we recommend and select items through testing and reviews. Some products are sent to us free of charge with no incentive to offer a favorable review. We offer our unbiased opinions and do not accept compensation to review products. All items are in stock and prices are accurate at the time of publication. If you buy something through our links, we may earn a commission.